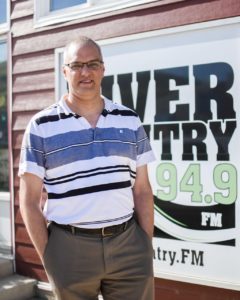 News Director
Keith Hopper here… Same person, different role. I was doing mornings on River Country and KIX FM, but with the nine months I was on leave in 2021, I've been promoted, TWICE! I was promoted to Parenthood, as I became a father for the first time, and to the News Director, here at the radio stations.
I may have changed my titles, but the approach is still the same. Reaching out to the Peace Country to see what makes this area great!
I bring over 25 years of experience to the Peace Country, covering news, sports, events, and the people that are "Making Conversation".
In my spare time (what spare time), I enjoy spending time with my wife Chantelle, our daughter Lilyanna, and our two fur-babies Reese and Hershey.  I also enjoy being on the ball diamond umpiring Baseball (21 seasons), on the gridiron refereeing Football (13 seasons), plus being in a hockey rink somewhere, either watching or volunteering (36 seasons).
I'm extremely happy to be back in the Peace Region, and look forward to catching up with you, the people of Northwestern Alberta. CHEERS!
---
Morning News Anchor / Reporter
I'm Kyle Moore. I'm the guy doing the news every weekday morning.
Born and raised in the town of Strathmore, AB, I've moved around a bit over the years. Went to college in Lethbridge, worked in Dauphin, MB, Bonnyville-Cold Lake, AB and now I'm here in Peace River.
My biggest passion is covering sports and doing hockey play-by-play (and yes I wear a lot of Calgary Flames and Calgary Stampeders gear even though Northern Alberta is sort of enemy territory.)
I'm also big into classic video games. The Sonic the Hedgehog series is a big favourite of mine, but I also play a bit of Pokemon, Mario and Metal Gear Solid.
I like to consider myself as someone who's easy to make friends with, and I look forward to making a lot of new ones here in Peace River.
---
Afternoon News Anchor / Reporter
Hi I'm Erika Rolling! I deliver the news mostly the afternoon and night because I love to sleep in.
I was born and raised in the Peace Country, specifically Fairview and I'm happy to now be in Peace River. I took my post secondary schooling at SAIT in Calgary for the RTBN program. I started as the Summer Events Cruiser here in 2019 and kicked off my career in news right here in my stomping grounds.
I love doing stories that show the good in the community and people involved. Stories that are feel good, personal and may be able to help someone out.
What I love about living in northern Alberta is the space and freedom to roam. I love the outdoors; to go fishing, hunting and exploring. Living in Calgary for school made me miss the fall colours, sunsets and northern lights we get up here. There is no comparison.
A few of my favouritess: chocolate labs as my family has one, shopping at local stores for hidden treasures and watching movies with friends.
---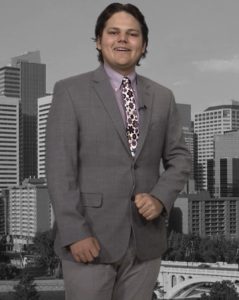 News Anchor / Reporter
Hey there! I'm Calvin Hector.
I was born in Calgary, Alberta and moved to British Columbia during the 2013 floods.
I'm a big time sports fan and have participated in many athletic activities. In the winter I enjoy hockey and the rest of the year is golf season (I'm a "pro"). My hockey loyalty is with the Calgary Flames and I'm ready to take my lumps for being in Oiler country.
While in BC, I worked for a Junior A hockey team filling many roles such as in rink host, colour commentator, and p.a. announcer.
I recently completed the Radio, Television, Broadcast News program at the Southern Alberta Institute of Technology and am excited to begin my broadcasting journey in Peace River. 
---