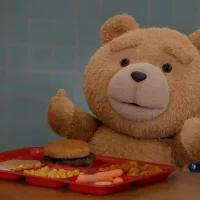 The hit character of Ted, that was created and voiced by Seth MacFarlane, who also created Family Guy, has a prequel series coming out January 11th.
The show is "set in 1993, after the opening sequence in the first film, the series depicts the early life of a sentient teddy bear toy named Ted, as he lives with John Bennett and his family in Massachusetts. In addition to John & Ted, the Bennett household includes John's father Matty, his mother Susan, and his cousin, Blaire, who is living with them while attending a college nearby."
The show will see Seth MacFarlane voicing Ted, as the only returning cast member from the films with the parents being recast and names altered. Due to it being a prequel is to why no Mark Wahlberg or other major characters from the franchise.  The cast joining MacFarlane will be Scott Grimes (worked with Seth on The Orville), Alanna Ubach (known for Legally Blonde), Max Burkholder, Giorgia Whigham (13 Reasons Why fame).
It will be 8 episodes that will  have a supersized first episode with the remaining episodes being 30 minutes long.
Not sure how well the series will be but it is something I will certainly give a chance to.
Check out the trailer below:
– Everett