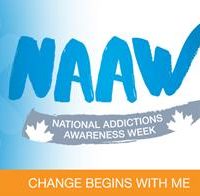 National Addictions Awareness Week (NAAW)
November 22-28, 2020
This Year's Theme Is: "Change Begins with Me"
Information provided by Peace River Alberta Health Services – Addiction Services Team
If you or anyone you know is looking for information about substance use, tobacco and/or gambling; or if you would like to schedule an appointment with an addictions counsellor to talk about your use or your concerns about someone else's use, please contact Alberta Health Services Addictions and Mental Health Office in Peace River at 780-624-6151 and ask to connect with an addictions counsellor.
To begin recovery from addiction, change is essential. Making changes in our lives can help establish new patterns and reduce the chances of falling back into unhealthy behaviours.
Change occurs as a process, not an event. When we experience change we often move from what we have known and done through a time of transition to a new way of behaving or doing something.
It is easy to see changes in nature occurring as a process. Whether it is a caterpillar turning into a butterfly or winter shifting into spring, we can appreciate the process of change. But when we begin making personal changes or we begin thinking about new projects or new initiatives, we often forget that change doesn't happen instantaneously.
Change is a process that unfolds over time, inviting progress through a series of stages.
Change is often motivated by focusing on positive thoughts and behaviors.
Music, poetry, and movies can influence change.
There are great examples of songs, poems, and movies that impact us emotionally with messages that encourage us to consider change and move through change.

Examples:
"Breaking the Habit" by Linkin Park
"Starting Over" by Macklemore and Ryan Lewis
"Gravity" by A Perfect Circle
"Sober" by Pink
"Recovery" by James Arthur
"Wind Beneath My Wings" by Bette Midler
"You Raise Me Up" by Josh Groban
"What a Wonderful World" by Louis Armstrong
"Lean on Me" by Bill Withers
"I Can See Clearly Now" by Billy Cliff
"You'll Never Walk Alone" by Rogers and Hammerstein
"On Eagle's Wings" by Michael Joncas
Poem: "Footprints"
Poem: "Starfish Story"
Movie: Cool Runnings
Movie: Sea Biscuit
Movie: Cinderella Man
Movie: Erin Brockovich
Movie: Freedom Writers
Movie: The Pursuit of Happiness
Movie: The Blindside
Sayings and affirmations are powerful tools to help change our lives for the better.
Affirmations are positive statements that may challenge us, and help us to overcome negative thoughts. When we say them often they can help us work toward making positive changes.

Example Sayings:
"Happiness is not the belief that we don't need to change, it is the realization that we can." – Shawn Achor
"Turn your face to the sunshine and all shadows fall behind."
"Today is the first day of the rest of my life."
"People do not resist change, they resist being changed." – Peter Senge
"The only person we can truly change is our self."
"You must be the change you wish to seek in the world."
"It is in changing that we find purpose." – Heraclitus
"Change is not made without inconvenience, even from better to worse." – Richard Hooker
"No one can change a person but someone can be a person's reason to change." – Shannon Alder
"Change is good. With change you learn something."
"Don't fear change, embrace it." – Anthony D'Angelo
"Don't try to change, train to change."
"God grant me the serenity to accept the things I cannot change, the courage to change the things I can, and the wisdom to know the difference." (Serenity Prayer)
Example Affirmations:
I face this challenge with strength and know that I will get through.
I am strong, courageous and worthy of all things.
I now step out of my comfort zone to become the person I believe I can be.
I am letting go of what I cannot change.
I am ready to make a positive change.
New and exciting opportunities are ahead of me – I am creating my destiny.
Today I open my health to others by seeing good in them.
I am on the path to achieving my goals.
I embrace fear and self-doubt, not letting anything stop me from what I want.
Being involved in activities may help us feel better about ourselves and build positive self-esteem.
It is important to remember that how you think about yourself determines your self-esteem. To have a healthy self-esteem, you need to be aware of both your strengths and limitations. Without this basic awareness, you have little to build upon.
Changing your behavior involves taking the risk to try something new.
Trying new activities or being involved in activities may help us feel better about ourselves and help us become more aware of our special talents and what qualities we value in ourselves.
"If you cannot risk, you cannot grow.
If you cannot grow, you cannot become your best.
If you cannot become your best, you cannot be happy.
If you cannot be happy, what else matters?"
Dr. David Viscott in "Risking"
Example Activities:
(Ensure to follow AHS Covid-19 Guidelines when taking part in activities with others)
Journaling.
Walking.
Stopping to talk to someone – a friend, an acquaintance or even a stranger.
Helping someone else. Go shovel someone else's snow.
Play a board game with your friends.
Learn a new skill or hobby. It is mentally stimulating and fun to challenge yourself to learn a new skill.
Eat something healthy; "Hangry people are not happy people. Sometimes the simplest mood enhancing activity is eating something relatively healthy."
Immerse yourself in activities that allow you to forget time and place (this is different than distraction). For example, writing, music, cooking, beading, knitting, crafting, and dancing.
Phone a friend – a main contributor to happiness is social contact.
Meet a friend at the end of the day, even if you are tired or feel like you have too much else to do.
Practice self- care. In today's face paced life this is something that is easy to forget. Yet it is the surest way to prevent burnout, illness and unhappiness. Paint your nails. Go for a massage. Take a bubble bath.
Snuggle with your pet.
Be creative – write a song or poem, paint or draw a picture.
Make a batch of cookies, share them with your neighbors, and chat.
Cut a maze into your grass.
Invite your neighbors to a block party potluck.
Eat supper with your family and put away the electronics.
Make a jar of family conversation starters and pick a time every week to talk together.
Learn something new by listening to a podcast.
Play hockey with your kids on an outdoor rink you built.
Gratitude can help us when we are trying to change because it helps us focus on positive things in our lives.
Gratitude inspires us. Research has shown that people who practice gratitude tend to be happier and less depressed. Thinking about positive things changes our focus from what we lack to what we have. It provides an opportunity to have a more balanced perspective. Gratitude is a key ingredient to feeling happy. By focusing on the good in your life, you will feel more positive and optimistic.
Gratitude can make us kinder, especially when we feel that we have more to give. This in turn helps to improve our relationships.
How do you practice gratitude?
Daily.

As often as you can.

Do it at a set time each day or multiple times throughout the day.

You can practice out loud, quietly to yourself, or by writing it down.

It's really simple and it's FREE.

You just have to think about what you're grateful for.

Keep a gratefulness journal. Write down something you are grateful for each day. As this book fills up it's very powerful to read back through it all.

Finish each sentence with a smile on your face and the words "thank you". It just helps to give the practice focus.

At any point in the day, when something good happens and you feel happy about it, take a second to acknowledge it and say thank you.

Create a gratitude jar. When you feel grateful for something write it down on a slip of paper and place it in a jar. Seeing the jar fill up helps to demonstrate how life is filled with things to be grateful for. Emptying the jar and reading its contents is a really positive and re-affirming experience.

Push gratitude forward into the next day, set positive intentions the night before. Give thanks for anything you are thankful for (even though it hasn't happened yet).

Try to replace the word "sorry" with "thank you", where you can. Instead of "sorry for being late" try "thank you for your patience". Instead of saying "sorry for taking up your time" say "thank you for your help and support". Reframing an apology to gratitude can build self-worth and establish a positive view in the person you are interacting with. Never underestimate the power of saying thank you.
What are you grateful for?
"Today I will practice gratitude. I will get in the habit of saying thank you, even for the "problems" in my life, because these challenges are valuable lessons I can learn from. Gratitude is the key that turns problems into lessons, and the unexpected into gifts." – Melodie Beattie
"Gratitude is the healthiest of all human emotions. The more you express gratitude for what you have, the more likely you will have even more to express gratitude for." – Zig Ziglar
"Thank you is the best prayer that anyone could say. I say that one a lot. Thank you expresses extreme gratitude." – Alice Walker
"Enjoy the little things, for one day you may look back and realize they were the big things." – Robert Brault
"When I started counting my blessings, my whole life turned around." – Willy Nelson
"Some people grumble that roses have thorns; I am grateful that thorns have roses." – Alphonse Karr
Gratitude examples:
My pets.
Having a cozy bed to crawl into tonight.
Playing with my children.
Spending time with my family and friends.
Facetime to connect with loved ones.
Waking up in the morning to a new day.
Eating a home cooked meal.
The warm sun on my face.
My home appliances that make my life easier.
Getting a day of and sleeping in.
A good cup of coffee.
My hairdresser who knows just what to do.
The opportunity to order takeout when I'm too tired to cook.
Grateful to work.
Grateful to be healthy.
The Peace River Alberta Health Services Addiction Services Team.
Sue Long (area supervisor)

Karissa Chowdhury (tobacco/addictions counsellor)

Kaitlin Maguire (addictions counsellor)

Trevor Lusby (addictions counsellor)

Liz Daigle (addictions counsellor)

Julie Boucher (addictions counsellor)
The Peace River Addiction Service office is co-located with Mental Health at 10015-98 Street in Peace River. Peace River Addictions services provides information, prevention, and treatment services to residents of Peace River and surrounding communities and also has visiting offices in Manning and Fairview.
If you require information or help for yourself or someone else, you can contact the Addiction and Mental Health office at 780-624-6151 and request to connect with an Addictions Counsellor. Addictions Counsellor are here to connect you with the information and resources you need and offer you an appointment.