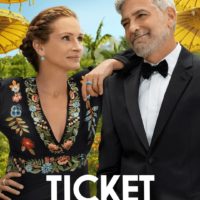 A Rom-Com with two big stars.
Julia Roberts and George Clooney play a divorced couple in Ticket to paradise. The premise of this movie has them teaming up, despite their…bitterness toward each other, to stop their daughter (Kaitlyn Dever) from marrying a seaweed farmer in Bali. She has just graduated law school and they want to stop her before she throws that all away.
This leads to many antics as they plan to sabotage the wedding and many comedic moments. As although they are teaming up they still poke jabs at each other.
It wasn't all fun stuff there were a couple of more serious moments as you find out the backstory behind their divorce. I felt like it was really well done and as you learn those pieces somethings that happen early in the movie make a little more sense as well.
this movie isn't trying to be completely realistic which is the complaint I have seen from some people…it is a movie. One critique I did have was how they constantly said how much they said they loved Bali. It wasn't a bad thing they just seemed to mention it a lot that it stuck out to me. Which wasn't unwarranted the place really was beautiful but I felt like they really wanted you to know it.
Overall I thought it was a pretty good movie and if you are interested in some good movie rom-com fun check this one out.
Included below is the trailer if you are on the fence give it a watch and if the jokes make you chuckle then it will probably be something you will enjoy.
-Jared Gomes