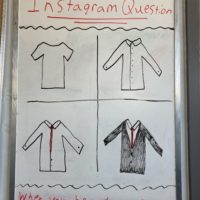 Finally back to writing today's blog after I was gone for the weekend. I was off in Edmonton for my college graduation. It was overall a very fun time and I really enjoyed it. After I didn't really get high school graduation due to all the restrictions that were in place it was great to finally attend my college one. Going in, I didn't know what to expect but it was weird seeing everyone dressed up in these robes…gowns…whatever you want to call them everyone looked like wizards and it seemed like something out of Harry Potter. Underneath those robes, everyone was dressed up really nice for the event which is why last week I was thinking about that exact question.
When someone says "hey for this event dress nice". what does that mean? what are you expecting to see/wear? I asked this question over on Instagram and the results kinda surprised me.
On KIX FM it was pretty even 17% said full suit/tuxedo and just a shirt and tie and then 33% were tied, saying just a nice shirt or a button-up dress shirt would suffice. So, it seems that people when say "dress nice" all they really mean is a nice shirt or a button-up nothing too fancy and definitely doable. This turned out a lot more even than I expected. We didn't really even end up with a definitive answer so let's see what happened in River country maybe it's different there…
Well…here in River Country it is definitely different but in a completely different way. Everyone who voted is tied at 50% between shirt and tie or a full-on suit or tuxedo. So, when someone says "dress nice" it takes a lot to impress you guys.
For my grad this weekend I went with the shirt and tie combo and I feel like it worked…although most of it was covered by those wizard robes we wore. Although that's what I did…it seems like there isn't really a right answer. Everyone was kind of all over the place this time. It makes sense though. There are a lot of factors when deciding how fancy to dress. So I feel like we need to standardize these phrases so that everyone can figure out what their doing…but that probably isn't going to happen…because…everyone loves chaos…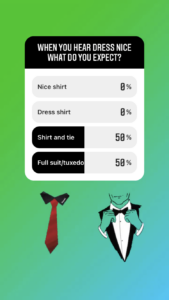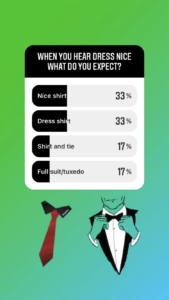 I like to ask a different question over on our Instagram story everyday I'm on.
You can answer today's question here: on KIX FM or on RIVER COUNTRY
-Jared Gomes