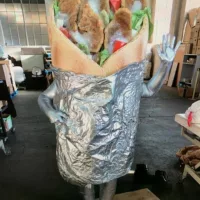 The province of Alberta is auctioning off a donair costume they had made in 2015 for an impaired driving ad and it is getting massive attention and bids. The impaired driving video was originally going to feature the donair costume in a campaign against getting high and driving but was never actually made and is now on the auction block.
The costume is estimated to have cost the province $10k-$15k and appears to finally proving it's worth. The government auction listing says it's in excellent but dusty condition. The costume was out in full force at the Taste of Edmonton Thursday with Premier Danielle Smith as it provided a great photo-op.
Dale Nally, the minister of Service Alberta and red tape reduction has said: "It's unfortunate that this beautiful donair costume that has captivated social media never made it into the awareness campaign, but I'm pleased that it has now found its way into the spotlight."
The costume has donair shops have made the bulk of the bids as one would expect for the costume.
It's hard to believe the that the costume has hit over $16k after it started at $50 and minimum increases of $5.
The bidding ends on August 14th. So the big question is how high will the bidding go.
Here is the link for those wanting to watch this epic-ness play out.
Alberta Online Auction :: Item Detail
– Everett