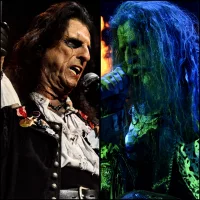 September 6th Alice Cooper and Rob Zombie played Budweiser Stage in Toronto as a part of Zombie's Freaks On Parade tour and Cooper's Too Close For Comfort tour. The Toronto stop was the lone Canadian date. It also featured 2 opening acts in Filter and Ministry before Cooper and Zombie.
Alice took the stage just after 8 and played a modified set list than his normal show playing a little over an hour playing classics like "No More Mr. Nice Guy," "Billion Dollar Baby," "Poison" and "School's Out" just to name a few of the hits he performed. Despite it being a Canadian tour date Alice would perform "Elected" notable considering 2024 is a Presidential election year, but maybe he Alice knows something we don't about us heading to the ballot boxes soon. The performance included the trademarked Frankenstein Monster, the straightjacket as well as the famed guillotine. Alice at 75 shows no sign of slowing down and his band might be one of the best live performers I have ever seen notable Nita Strauss and her energetic performances on guitar.
Rob Zombie would the stage after a set change over, which kudos to those involved given the pieces that needed to be changed out. Zombie brought energy and a charisma to the stage performing 14 songs which include the iconic "Living Dead Girl" and for the encore "Dragula." Rob would also perform some songs from his old group White Zombie. It was interesting to see Rob play as I have never seen him live before and is something I would gladly do again as the set, the performance and of course the sound was great. He also featured a trailer for a re-release of his film "House of 1,000 Corpses."
Both Alice and Rob give you bang for your buck with their stage performances. The crowd seemed a little their to see Cooper, but many Zombie fans, notably quite a few from Quebec as they love their metal music and no Quebec stops this time around. It was amazing to see the people all dressed up whether it was the "ballerina nurses" or characters from Zombie's films. Everyone seemed to leave happy despite some crowd issues that you don't often see with these concerts.
I think if you have the chance you wouldn't want to miss either.
Check out photos I snapped of the show:
– Everett