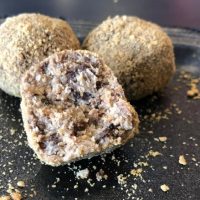 Rosie's Restaurant in Gander, Newfoundland has a special treat with an interesting name that is fitting for a Canadian restaurant, it is called a Moose Fart. What is in it you  might wondering, well it's a dessert ball made with graham cracker crumbs, chocolate chips and condensed milk as well as a few secret ingredients added in. They market this by asking a very simple question, "want to try a moose fart?"
The owner and cook Dwayne Abbott is so committed to the secrecy, he won't even consider selling his cookie creation to other distributors like grocery stores. "That was one of my highlights. That was going to be our trademark, you know what I mean? 'Home of the moose fart,' hey? What better name?" Abbott said he will probably take the secret to his grave as well. The desert gets attention of tourists from all over, and outsells any other dessert on their shelves, about 10 to one.
I don't know about you but I want to head on down to Gander, Newfoundland, but I have one important question, want to try a moose fart?
-Everett