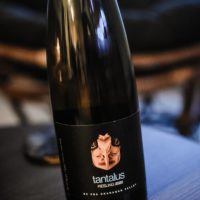 Hey y'all! Happy Wine Wednesday! This week's featured wine off the shelves at Barrel Wine 'n' Spirits is the Riesling 2020 from Tantalus.
Tantalus Vineyards was originally Pioneer Vineyards and grapes were first planted on the site in 1927. Read more about them here.
This Riesling features the recognizable notes of Ambrosia apple and peaches. It also has hints of white lily, jasmine, and clementine. This wine is a little zesty, very flavourful. Read more about it on their website.
12.3% Alcohol Content.
Barrel Wine 'n' Spirits is attached to the Board 'n' Barrel restaurant on River Road, Peace River – the best selection of wine in the Peace.
– Kelsey