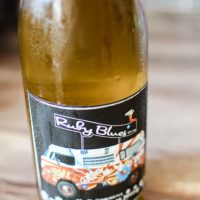 Happy Wine Wednesday, friends! This week I am sipping on a Pinot Gris from a winery out of Penticton. Ruby Blues opened as Ruby Tuesday Winery in 2008 and quickly became popular with visitors to the Naramata Beach. Two years later, they changed the name to Ruby Blues Winery. Their Pinot Gris bottle features an old Volkswagen bus which is a consistent part of their brand.
The Pinot Gris features flavours of passion fruit, citrus and soft pears and apples. They say that it pairs well with pasta, mushrooms and light chicken dishes.
This Pinot Gris has a nice balance, it's neither sweet nor dry and it's just lightly crisp. This one will definitely become a regular in my rotation!
-Kelsey