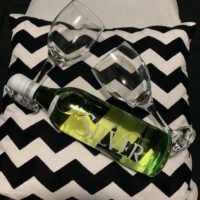 This Chardonnay is very different .  We noticed right away that it just didn't quite seem like a regular Chardonnay.
The taste of citrus and apple is very noticeable, making it different right off the bat.  It seems a lot less sweet than other Chardonnay's, and does indeed seem to be rated extra dry in most posts about it.  Plus, it's a very smooth wine.  It goes down… like butter?
The unoaked style of the wine is what stands out.  It isn't made in barrels, but rather stainless steel tanks.
It creates a different feel to the wine for sure.  Give it a try!
---
Inspired by the classic wines of Chablis and grown in the fog-shrouded hills of Monterey, this unoaked Chardonnay always impresses with its juicy lemon, apple and tropical fruit and gorgeous underlying mineral character. Pair it with barbecued chicken.
---
Release Date:August 7, 2021
750 mL bottleAlcohol/Vol:14%
Made In:California, USA
By:Charlie Wagner, winemaker
Sugar Content:3 g/L
Sweetness Descriptor:Extra Dry
Style:Full-bodied & Rich
Varietal:Chardonnay
---
-Damien Gnass, The Morning Wheelhouse