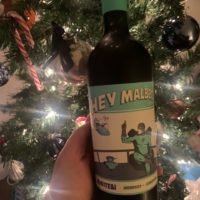 If you're a fan of South American Wines, this one is worth a try!
New to Barrel Wine 'n' Spirits, the Matias Riccitelli Hey Malbec has an almost spicy undertone to it.
Must be the black pepper in the description…
The black fruits definitely are noticeable. A tasty flavour combination.
TASTING NOTES: Malbec is the Argentinian flagship variety and this beautiful wine is a truly sublime interpretation. Juicy black fruits combine with violets and black pepper, with soft and ripe tannins leading a soft and opulent finish. Lovely on its own or with juicy red meat.
To be honest with you, I'm never really a fan of the South American Wines.  I feel like every one I try has an aftertaste that I don't enjoy.
Not this one though! I enjoyed a couple glasses of it.
Pick up a bottle today!
-Damien Gnass, The Morning Wheelhouse