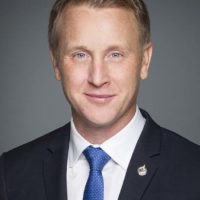 Grande Prairie-Mackenzie MP Chris Warkentin is part of Pierre Poilievre's leadership team with the Conservative Party.
Warkentin says that Poilievre brings a "common sense perspective" to governance.
"He is a person who is moved by the convictions that the average Canadian should control the government. That it should be normal Canadians that are represented in Parliament and represented in the government. He swept the Conservative leadership race in unprecedented history making numbers, and I believe it's because of the message of common sense."
Warkentin will serve party's deputy whip and Question Period coordinator.
He says dealing with inflation is their biggest priority going into the next session of Parliament.
"I hear regularly from families and senior citizens who are just unable to pay the bills. With a 10% year-over-year inflationary cost increase for food and astronomical increases in fuel, we know families and seniors are making decisions that are sacrificial decisions about where not to spend."
The full interview with Warkentin can be found below.
– Kyle Moore, Trending 55 Newsroom