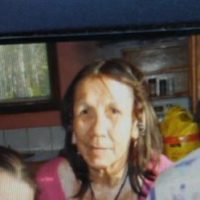 Courtesy: Peace Regional RCMP
UPDATE:
Carol Sawan has been located.
Background:
Peace Regional RCMP are looking for assistance in trying to find a missing woman from Peace River.
61 year old Carol Sawan was last seen in the evening on June 12.
A witness saw Carol get into a newer style blue van, possibly a Dodge, bearing a Saskatchewan licence plate.
Carol also has ties to the Simon Lake area.
She's described as:
· Medium coloured skin
· Slender build, approximately 110 lbs and 5'5
· She has grey/brown
· She has a skin condition which makes her skin appear blotchy
· Last seen wearing black jeans, a black and blue camouflage sweater and a grey t-shirt
If you have any information on her whereabouts, contact Peace Regional RCMP or CrimeStoppers.