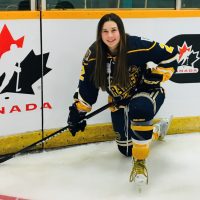 Dayle Ross has been named the Tim Horton's Athlete of the Month for June.
Dayle is a 16-year-old student at Spirit River Regional Academy, and a member of the St. Albert Slash. Born and raised in Spirit River, Dayle was instrumental in her team achieving history just a little over a month ago in Ontario.
The Esso Cup is presented to Canada's National Female Midget Champions, with St. Albert becoming the first team in history to win three consecutive national titles. Dayle had a goal to help the Slash take down the Sudbury Lady Wolves by a final of 4-1 in the gold medal game, and recorded a total of five points in the seven game tournament.
Dayle first started playing hockey when she was four, and has since grown into a strong skating blue liner with a bright future. Coming from a hockey family, the 16-year-old has always had a keen interest in the game and notes her Dad as one of her earliest influences.
Prior to this season where she made her debut with the St. Albert Slash, Dayle had previously played her minor hockey in Grande Prairie as a member of the Bantam Elites. Following her time in Grande Prairie, she would then move to St. Albert to play for a team that had won the national championship two times in a row. In her first season playing defence for the Slash, Dayle would record 12 points in 30 games which included six powerplay goals. Dayle shared her thoughts regarding the monumental season which was capped off by the national title.
"It was almost like everything we did that year paid off." said the native of Spirit River. "You don't know what you can do until you actually do it."
Despite just one year of Midget AAA under her belt Dayle plays the game at a very high pace, using her strong skating ability to quarterback the Slash offence from the back end, while also playing a key role on the powerplay. She then spoke about what sort of advice she's had from coaches.
"My coaches say I need to slow down a little bit and play a bit more defence," said Ross. "We have lots of talent on the team so I don't need to score all the goals."
When it comes to her greatest strengths on the ice, Dayle notes her skating and shot. When it comes to the things she's looking to improve on heading into next season, she notes stick-handling and working on her edges as her main areas of focus. Dayle plans to continue her hockey career into the future as well, as one of her goals is to eventually move on to University hockey.
Next up Dayle will be heading to Grande Prairie where she'll be looking to improve her conditioning and skills ahead of next season.
Congrats Dayle!
–Alex Rodgerson, Trending 55 News