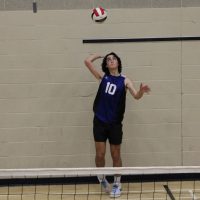 Our Subway Athlete of the Month for February is Owen Colbourne
He's a volleyball player at Peace River High School.
He also tried out for and made the Arctic Winter Games Volleyball which is happening in March in Whitehorse, YT.
Colbourne was also named to the GPRC High School All-Star team for a second straight year, he's also practiced with the college team at GPRC and worked with their coaches as well.
Congratulations Owen and best of luck this season.
– Kyle Moore, Trending 55 Newsroom.