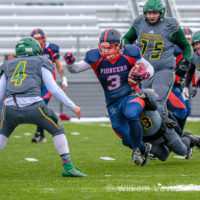 Our Subway Athlete of the Month for November is Braxton Rudneski.
Rudneski plays for the Peace River Pioneers football team who just completed their fall camp.
"I'm really glad we actually got to play. It didn't seem like we were gonna get a season in. We only got one game in but I'm just glad we got to play football. The actual season will start in the spring time when we would normally do this."
In addition to playing football, Rudneski is also a hockey player. He plays Midget A hockey as a goalie and says playing multiple sports keeps him in shape year round.
"Football doesn't happen in the winter, but hockey does so as soon as I'm done hockey, I do football. I just love playing sports so it's really great that I get to play year round."
Congratulations Braxton, and best of luck this season.
– Kyle Moore, Trending 55 Newsroom