The Queens Of Rock and Country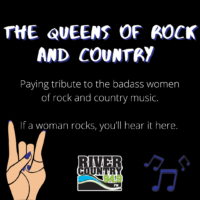 Tune into River Country every Saturday and Sunday at 8pm for The Queens of Rock and Country. A show dedicated to paying tribute to the badass women of rock and country music. If a woman rocks, you'll hear it here.
Grace Slick, Carrie Underwood, Joan Jett, Reba McEntire, Pat Benatar, Miranda Lambert, Stevie Nicks, Dolly Parton, Heart, and more.
Hosted by Kelsey Somerville
---

Hello rock and country music fans! I am so excited to bring my new show to the airwaves for y'all. The Queens of Rock and Country is a 1 hour show that airs Saturday and Sunday at
Continue Reading »