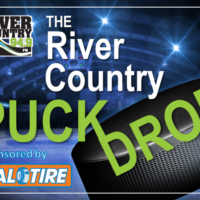 We check out another local player in the NCAA ranks.
Nampa's Tyrell Boucher is in his second season at Northern Michigan University. We talked to him about his recovery from a leg injury he got last season, he tells us a little bit about the community of Marquette, MI and more.
We also look at a busy week in the NWJHL including a big game tonight between the North Peace Navigators and the Fairview Flyers, the AJHL's Grande Prairie Storm going out on a road trip this weekend and what else is happening with the different teams and leagues around the region.