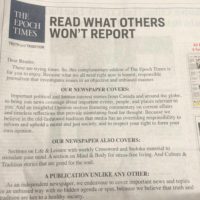 UPDATE – January 13, 2021
Canada Post is confirming that The Epoch Times was delivered to "some residences in Northwestern Alberta" on Tuesday.
The spokesperson goes onto say that, "As Canada's postal administration, Canada Post is obligated to deliver any mail that is properly prepared and paid for, unless it is considered non-mailable matter. The Courts have told Canada Post that its role is not to act as the censor of mail or to determine the extent of freedom of expression in Canada. This is an important distinction between Canada Post and private sector delivery companies."
---
People in various communities around the Peace Region tell the Trending 55 Newsroom that a tabloid-type of publication was waiting for them. 
Many are saying a newspaper known as The Epoch Times was in their mailbox unsolicited. 
The publication has been known to oppose the Chinese Communist Party and has also supported outgoing US President Donald Trump, as well as given a platform to French politician, Jean-Marie LePen, who has made statements in the past saying that the number of people who perished in the holocaust was inflated. 
One listener tells us he was "surprised" to get home from work to find it in his mailbox when he came home from work. 
– Kenny Trenton, Trending 55 Newsroom