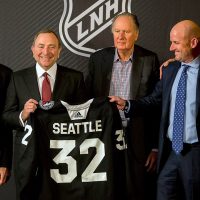 Well the Seattle NHL franchise was supposed to announce the new team name this month but looks like it will be a little bit of a longer wait. A recent report states they will be naming the Seattle Kraken, now these are just reports, as the Seattle franchise refuses to comment on rumors, and that they are taking their time to find the name for the team. These rumors were reported yesterday by John Hoven of mayorsmanor.com, as he joined SXM NHL Network Radio and reported that a name has allegedly been decided on was the Seattle Kraken. Once again the franchise hasn't ruled out the Kraken name but in no way confirmed it.
Personally I would prefer something more representative of the Seattle area or the state of Washington. There were other rumors that they were leading towards Seattle Sockeyes, but due to that being used in a fantasy novel, a deals would need to be made to use it. You just have to look at the last team to officially join the NHL the Vegas Golden Knights, as they dealt with naming issues that landed with a settlement with the United States Army Parachute Team that uses the same name.
What would you like to see the new team be called?
-Everett