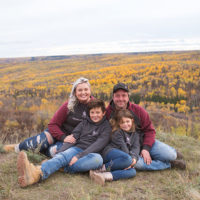 Rebellion Farms in the Brownvale area has won the 2021 MD of Peace Family Farm Award!
Christi and Kelly Friesen run the farm with the help of their two young children Kohlton and Mackenzie.
Uniquely, Rebellion Farms is not a generational farm, (yet). The couple started out on their own in 2015 with 1,400 acres of cropland and expanded to 5,000 acres by 2021.
The farm harvests canola, wheat, barley, oats, peas, sometimes small red lentils and more adventurous crops like soybeans and fava beans in past years.
Christi was a guest on the River Country Ag Show and said the entire family helps out and supports them in their ventures.
"My mom and dad were there with us when we got the award because they are big supporters of our farm and they've helped us a lot with seeding crews, running equipment, giving rides, picking up parts and anything that we need to make to make our farm successful, they are they to help."
The family is involved with the Berywn 4-H Multi Coveralls, where Christi is the volunteer poultry leader and the kids are active members.
In the off-season of farming, Christi added the farm expanded in other operations and has two pieces of equipment for off-farm income.
When asked about winning the award, Christi said "It was a great feeling, it's one of those things that we just kinda do what we believe is the right thing to do."
"We've been out helping neighbours and friends. We've got our crops off and they are still out combining, we're gonna bring our combines and we're coming over to help you get yours off because the snows coming or the rains coming."
Christi noted the couple has been trying to teach their children valuable life lessons and morals and winning the award and being recognized for their work has been a nice surprise.
You can listen to the full interview with Christi Friesen of Rebellion Farms below as well as on the River Country Ag Show every weekday during the noon hour.
-Erika Rolling, Trending 55 Newsroom