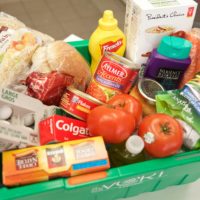 Courtesy: Government of Alberta
Supporting food security for Albertans
November 23, 2022 Media inquiries
Alberta's government is taking immediate action to ensure those in need can put food on their tables.
Albertans are facing increased costs due to record inflation. As many Albertans struggle to heat their homes and feed their families, more people are turning to food banks to help meet their basic needs.
The government is grateful for the work Alberta food banks and other civil service agencies do to help Alberta families. To support this work, it is providing $10 million over two years, with the first $5 million distributed in the coming weeks and the second $5 million allocated for use in fiscal year 2022-23.
"Many Albertans rely on food banks, which is why I am so grateful for the work they do in their local communities. Alberta's government is proud to work with these organizations as we help care for those in need. By ensuring food banks within our province have enough resources, they will be able to support the communities and families they serve. It is my goal to ensure that no Albertan ever needs to wonder where their next meal will come from. I am grateful that our government is able to work with food banks to care for those who rely on their services."

Jeremy Nixon, Minister of Seniors, Community and Social Services
"Rising cost of living and high inflation are especially challenging for families, seniors and vulnerable Albertans. This announcement to provide additional resources to food banks is the first step in our Affordability Action Plan and provides more vulnerable families with meals."

Matt Jones, Minister of Affordability and Utilities
In addition to the $10 million over two years, Alberta's government is working to raise community awareness and involvement for food banks and other civil service agencies by allocating an additional $10 million over two years in matching funds towards Alberta food banks, charities, not-for-profits and civil society organizations. In total, Alberta's government is announcing up to $20 million in support of food banks and other civil service agencies across the province.
"Food Banks Alberta is pleased to be working with the Government of Alberta to address the urgent issue of rising food bank use in our province. Additional funding to the food bank network is critical to ensuring adequate access to funding by food banks across Alberta. We are confident that, together, we will be able to ensure equitable access to funding for all food banks, rural and urban, increasing capacity for food banks across the province to address the rising demands."

Arianna Scott, CEO, Food Banks Alberta
"As a member of Food Banks Alberta, we are glad to see the Alberta government is taking an essential step to fight hunger. We all need to work together to find solutions to the root causes of food insecurity. As we approach a future of potential economic instability, we are honoured to have the Alberta government's commitment."

Michael Pasma, president, Calgary Food Bank
"One of our core responsibilities to our membership is to be a relationship builder and a connector. It's part of our organization's mission. This means collaborating with the province and helping it support Albertans through a truly local lens. While our mandate is prevention, in times of need the Family and Community Support Services Association of Alberta has responded to the call and we're proud to work with the province on getting funds to agencies that represent boots on the ground. We look forward to a strong relationship with the newly appointed Minister Nixon and are eager for continued opportunities to advocate for our branches across the province."

Murtaza Jamaly, president, Family and Community Support Services Association of Alberta
Alberta's government is delivering immediate cost of living and inflation relief while working to support long-term affordability.
The Affordability Action Plan will extend broad-based supports while targeting additional relief to families, seniors and our most vulnerable. Albertans can learn more about current and future affordability relief programs and supports at alberta.ca.
Quick facts
Food Banks Alberta has 104 member food banks that share best practices and buying power.
Alberta's government provided $6 million for food banks during the pandemic.
According to a recent study, Alberta has the highest food bank usage in the country.