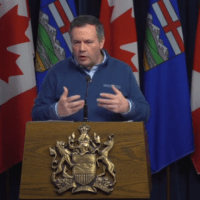 On March 23rd, Premier Jason Kenney addressed Albertans mostly on the new education tax freeze, among other deferrals. Kenney also spoke on the newest scam that has been happening across Alberta.
The telephone version of the scam involves scammers calling a victim, stating the victim tests positive for COVID-19, then requesting credit card information. Alberta Health Services has stated that 'AHS will never call & ask for credit card information. Please hang up immediately and report by calling the non-emergency line for local law enforcement'.
"In addition the cyber security incidents involving malware and fraudulent activities, including identity theft are being reported across Alberta in the wake of COVID-19. Cyber criminals are sending emails and setting up these fake websites designed to trick people into clicking links that install malicious software on their computers, or capture credentials and other personal information. In light of the scams, Albertans should exercise caution when clicking on links, or providing personal information to people— or organizations— that request that information about COVID, if it's done so unsolicited." Jason Kenney stated.
Kenney warns to be wary of suspicious links, and only purchase things such as face masks or other coveted items in the pandemic from authentic and trusted sources.
In relation, there has been news all across the country of Canadians hoarding large amounts of resources such as toilet paper, hand sanitizer, face masks, and other such related items, with some deciding to sell back the items to residents at an exorbitant price (sometimes referred to as 'scalping').
Kenney stated that places that need the resources most, such as homeless shelters or other community support organizations, are not receiving them due to those items flying off the shelves at retailers.
"[The homeless shelter which Kenney volunteered at this morning is] struggling to get supplies because their suppliers are being stressed by the demand in the grocery stores, and the grocery system. This is outrageous. Folks that are the the poorest amongst us are being hurt by people who are unnecessarily hoarding. So let me just say to those who are trying to exploit seniors and others during this time of a public health emergency; there must be a special place in Hell for people like that. Just stop it." Kenney followed this by saying that the practice was unpatriotic, as well as illegal, and those caught doing it 'will face the full force of the law'.
From a press release emailed out by the Alberta Government, it was stated that 'AHS is providing training to help shelter and isolation centre staff screen individuals. To date, there have been no cases of COVID-19 reported at homeless shelters'. Additionally, the 'Government is providing $25 million to support homeless-serving agencies respond to COVID-19'.
Additionally, it was stated that;
Corporate tax income balances would be deferred until August 31st, allowing a $1.5 billion break for Albertan businesses.
The government will be committing $50 million to support Albertans who need to self-isolate.

This includes those who are the sole caregiver of someone who needs to self-isolate, as well as those who will not have another source of pay while they are self-isolating.

A six month, interest-free break from Albertan student loan payments has been put in place.
Utility payments are deferred for farm, residential, and small commercial customers for the next 90 days to ensure 'no one is cut off from electricity and natural gas services during this time of crisis'.
-Ridley Reiser, Trending 55 Newsroom

Tags: