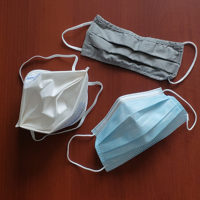 The Town of Peace River is once again considering the possibility of making masks mandatory in public spaces.
Town Council previously debated a "mask bylaw" earlier in the fall, but the recent rise in COVID-19 cases means it's back on the table again.
A public survey was done by the town earlier to get feedback on the issue, and the results were very divided.
The responses from Town of Peace River residents were slightly higher for support of mask wearing, for indoor settings and taxis. While there was stronger support for enacting a masking requirement when the regional COVlD—19 Status map shows the level of risk in regions at the higher levels of "Watch" and "Enhanced", although the survey was not a definitive call to action from the community.
Council will be debating the bylaw at a special meeting tonight. You can read a full draft of the bylaw here.
– Kyle Moore, Trending 55 Newsroom