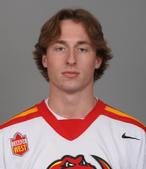 After playing his junior hockey in the WHL and the AJHL, Peace River's Carter Massier is now in the college hockey ranks.
Massier now goes to the University of Calgary and he says he's manged to adjust to being a "student athlete."
"You don't have much free time during the day or really at all. Any free time that you get when you're not at the rink or doing school, you're cooking meals for yourself. It's a cool adjustment. I'm just in general or open studies right now so I just have four classes so it's an easy start to getting back into school."
He hasn't played any games yet after offseason surgery but he does plan to get back on the ice this season.
"The adjustment is going to be a big thing. There's definitely a lot of older guys, instead of 16-20 year olds, it's 20-30 year olds now and a lot of ex-pro guys too. I'm really going to need to prepare for just the speed and the strength of the game. It's just fast hockey now with men playing instead of boys."
In his junior hockey career, Massier played in the WHL with Regina and Prince Albert and in the AJHL with Fort McMurray and Okotoks.
You can listen to our full interview with Massier below.
– Kyle Moore, Trending 55 Newsroom