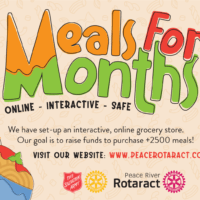 Peace River's newest service club wants to help anyone in the community in need.
The recently established Peace River Rotaract Club says its first fundraising event will be for the Salvation Army Food Bank.
Club President, Rylee Armstrong says it was more-or-less unanimous among club members to support the local food bank with the initiative called Meals for Months.
"I think with the COVID-19 pandemic and the recession, I have a feeling there will be a lot of families needing our support," says Armstrong.
"That's why as a Rotaract club, this is our clear-cut choice, that we need to support our neighbours in need in Peace River."
The club has set up an online grocery store, and donors can purchase a single meal, a day of meals, a week's worth, or as much as a month.
Every cent raised from the initiative will go towards the food bank.
Rotaract members will then purchase items from Freson Brothers and drop it off at the food bank.
"Our goal is to raise 2,500 meals to feed families for months, which is why we are calling it Meals for Months."
Click here if you would like to donate.
– Kenny Trenton, Trending 55 Newsroom