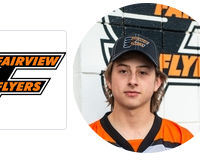 With the NWJHL season around the corner, we're going to be taking a look at some of the top player's every week during the season with the NWJHL player profile.
Our guest this week is Fairview Flyers forward Rylee Hebert. He's from Valleyview and is starting his second season with the Flyers. We talked to him about the team's play in the pre-season and getting ready for the regular season, being one of the veterans on the team, his hockey influences growing up and more.
You can listen to our full conversation with Hebert below.
– Kyle Moore, Trending 55 Newsroom