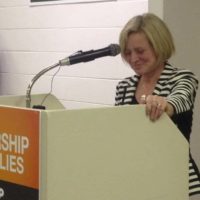 Former Premier Rachel Notley wants to see the provincial government give more financial assistance to post-secondary students due to the COVID-19 pandemic.
The NDP leader started her press conference off by stressing the importance of following public health guidelines.
Notley says campuses have been empty since mid-March and public health officials have no idea when they will reopen.
"That is of course entirely understandable," says Notley. "We must follow the advice of public officials and we cannot risk an outbreak on campuses. But at the same time, we cannot ignore the effects this has on our students, and ultimately our economy."
Notley points out that universities and colleges are trying to plan ahead for the fall semester while students are unsure of when they will be able to complete their degrees and pay for their education.
The NDP's plan calls for the following:
Provide direct — and equivalent — financial support to students who do not qualify for the federal Canadian Emergency Response Benefit program by adapting and reopening the provincial Emergency Isolation Support payment.
Restore funding to post-secondary institutions and cancel the transition to a so-called Performance-Based Funding (PBF) model
Restore the Summer Temporary Employment Program (STEP) to support employers and students. Incent jobs for students in sectors like tech to support a more diversified economy. 
Freeze tuition for the 2020-21 academic year and waive mandatory non-instructional fees, including student service and amenities fees, library late fees, and interest accumulation on late tuition fees.
Create a relief fund of between $10-15 million for publicly funded universities and colleges to help offset unforeseen costs related to the pandemic. 
The Trending 55 Newsroom asked the provincial opposition leader if the internet can play a role in helping students complete their studies, especially in rural areas.

"Many schools and teachers are doing more work – not less – to deliver that education," explains Notley. "We realize that online is a key component of that."

However, Notley also explained to the newsroom that many people who do well in a classroom setting may not be as successful if they are able to continue their studies only on the internet.

"Those folks are going to suffer and that is what we need our educational assistants to be there to help them with that."

Notley also pointed out that some rural families don't have access to the internet, or the necessary computer technology to do their school work.

She says that Education Critic, Sarah Hoffman proposed to the UCP government that it provide at least $250 per-student to families to support the extra cost that comes with home-based learning.

"That could include internet access and computer hardware and software as well because we know not everyone has a perfectly supped up internet-ready learning space at home," concludes Notley.

– Kenny Trenton, Trending 55 Newsroom

Tags: