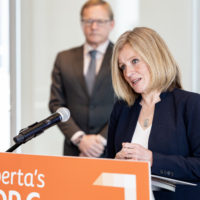 The Alberta New Democratic Party feels too many small businesses are in a critical situation thanks to the COVID-19 crisis.
Party Leader, Rachel Notley says what the United Conservative government has done to date is not nearly enough for entrepreneurs.
"Aside from tax deferrals, we have not seen a lot from the provincial government," says Notley, who explains that pushing payment dates down the road does not help.
"People from all over the province are telling us the deferral doesn't help," shares Notley. "It just makes them sleep less at night over the bills that are growing."
One measure announced by Premier Jason Kenney were deferrals of utilities payments, such as natural gas and electricity.
While there will be no late-fees accrued during the period, residents and business owners are still required to pay their tabs.
"It (the deferral options) may allow businesses to stay open for another week but they are all very concerned about how they pay those bills they keep putting on," she says.
The Trending 55 Newsroom asked the former premier about how the NDP would tackle this issue and she shared the party's four-point plan.
A rent supplement to help business owners pay their commercial landlords.
An incentive to get landlords to agree to defer rent and come up with different payment options.
A 50 percent reduction in insurance payments
A $5,000 grant to help businesses transition to the online world
"We feel this would line up with what the federal government has rolled out," concludes Notley.

– Kenny Trenton, Trending 55 Newsroom

Tags: