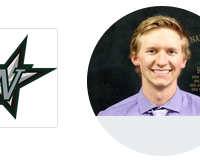 Former North Peace Navigators captain Cole Diewert says he hopes to "give back to the game" in the future.
The Peace River product says he would like to someday get involved in coaching.
"There's been a lot of people over the years that have put in a lot of time and coaches and all that so it would be a way to give back a little bit and to stay around the game for sure. You grow up playing hockey and it's the best sport for sure and it doesn't happen without all the people helping out and all the coaches definitely have had a big impact on me so you want to do your part as well and try to help out if you can."
Diewert played with the Navs from 2014 to 2018 and has since played with Grimshaw of the NPHL.
He was also on the 2016 Navs team that won the Alberta Provincial Junior B title.
Diewert says he grew not only as a player, but as a person too.
"To be a part of a team and be in that team setting and work together over the years, you have a lot of highs and lows just playing the game and learning to manage those and just keep moving forward towards the goal. Also to just show up every time when you go to the rink and be ready to go. You have to hold yourself accountable and put in the work because all of your other teammates are putting in the work and the coaches are putting in the work too."
You can listen to our interview with Diewert below.
– Kyle Moore, Trending 55 Newsroom