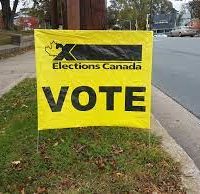 Due to the self-isolation rules, if you didn't vote early, you may not get a chance to. If you recently test positive for covid-19, and have to isolate, that could very well stop you from being allowed to go into the polling stations on Monday and do our civic duty.
According to the below video, despite us being in the middle of a pandemic which has been going on for a year and a half, no measures were put in place to allow for people to be able to vote in spite of isolation rules.
This is from CTVNews, where they interviewed an individual who came into close contact with someone who unknowingly had covid, and has been ordered to isolate until one day past the election.
Earlier this year, we did the census, and that was mailed to every single person in Canada, People came to doors to get it filled out, there was so much effort put in to make it as easy as possible to make sure everyone did the census. And now that it's election time, they haven't put anything in place to ensure every single person can exercise their right to vote? That just feels wrong to me. Hey @ the government of Canada… Could you maybe give us more options please?
~Donny