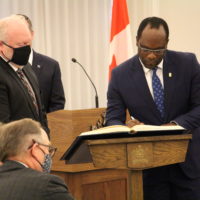 Today, the Trending 55 Newsroom had a chance to speak with Justice Minister and Solicitor General, Kaycee Madu.
Topics covered with the minister include:
his thoughts on becoming the first African-Canadian Justice Minister in the country's history
creating a justice system that is equal and fair to everyone
his thoughts on the upcoming case in the Supreme Court of Canada against the federal carbon tax
his plans for the ministry
defunding the police (a non-starter for Madu)
his thoughts on defacing statues and monuments as a form of protest
Madu is also the MLA for Edmonton-Southwest and he talks about the issues he faces in his riding as a urban-area MLA, and;
the minister opens up about his family and his passion for soccer!
The full discussion with Madu is below.
– Kenny Trenton, Trending 55 Newsroom

Tags: