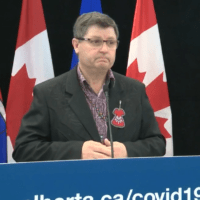 Rick Wilson, Minister of Indigenous Relations, and Grand Chief Billy Morin of the Confederacy of Treaty 6 First Nations spoke today to tell the public about a coordinated effort to make sure Indigenous peoples across Alberta have the ability to get supplies and care throughout the duration of the COVID-19 pandemic.
"Today's event is reassurance that the Government of Alberta continues to do everything possible to slow the spread of COVID-19 and protect public health," stated Wilson, "and that includes the indigenous people in this province who call this place home for countless generations."
Wilson states that his highest priority at the moment is to make sure Indigenous people receive the same quality care as other Albertans.
"The Alberta Emergency Management Agency preparedness and response supports to on reserves and First Nations and gets funding to do that through Indigenous Services Canada. The federal government also offers direct support mainly through prevention, mitigation, and recovery supports. First Nations members who live off reserve get emergency management support as any other resident would in a town or city, even though they still are in communication with their home communities. I think you're getting an idea about the complexity and I have not even mentioned all the major communities as well."
Wilson has stated that he's been working closely with Indigenous leaders, giving them needed information about available federal and provincial supports for their communities.
"Particularly, I'm sharing information about provincial non-health related funding programs and support, because many provincial services support Indigenous people too. For instance, we have allocated $30 million in funding for homeless shelters and women's emergency shelters to address the needs for physical distancing, sanitation, and other measures details of the guidelines from Alberta Health. As you know indigenous people are grossly over represented in the data when it comes to those experiencing homelessness. Many settlements are eligible to apply for some of that funding, which has been set aside as well."
Some of the support money has gone to things such as Alberta Native Friendship Centres Association, an association which is dedicated to ensuring that Indigenous people can improve their quality of life in urban areas.
"Getting critical supplies to Indigenous communities, especially those in remote parts of the province, is a top priority and we need your help. I plead with Albertans to think about their neighbors, and not only about what they need, and leaving the rest on store shelves. Indigenous leaders have been telling me about shortage supplies, and crowded homes for those who need to self isolate. One chief told me the other day that First Nations in far north Alberta needs half a million dollars for his community, and that's a regular delivery."
The Alberta Government has reassured Albertans that there will be no food shortage within Alberta, as the lack of items on store shelves is simply due to demand, not because of a lack of supply. Agriculture Minister Devin Dreeshen has stated that some people have been bulk buying out of fear of future shortages. Retailers have started to address that by limiting the number of items that can be purchased.
"We'll get through this together." Wilson reassured. "Call your loved ones, make sure they're okay, look after your elders, for they hold the wisdom to see us through. Care for the children and the young ones are [our] future."
The full conference can be found below, or on Facebook.
-Ridley Reiser, Trending 55 Newsroom

Tags: