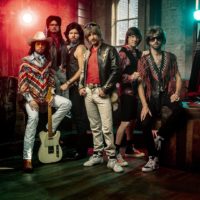 Hot Country Knights are a 90's cover band that have hit it big landing a major record deal, and even played their song "Moose Knuckle Shuffle" at the Grand Ole Opry last night. The band fronted by Doug Douglason, who sounds quite similar to Dierks Bentley, hit the scene with their first single "Pick Her Up" which features Travis Tritt and in the music video stars every 90's boys crush Tiffani Amber Theissen. If that were not enough they put out a music video for their song "Asphalt" and now a song and video called "Moose Knuckle Shuffle." The Band has their first album  set to be released May 1st called "The K is Silent."
Hot Country Knights are bringing some fun to the genre that usually is brought with songs from Brad Paisley. Their entertaining songs and videos will bring many people into the country genre who maybe haven't given the genre a chance in the past given the stereotypes of depressing songs or songs about tractors and pick up trucks. It isn't just the songs and videos that are bringing joy and laughter to country music fans but Doug's interviews and the fact that they are commitment to being stuck in the 90's. Doug revealed in an interview with CMT that he had an interesting career before music as he was in a "Debbie Does Dallas" sequel called "Doug Does Dallas," as well as the fact the band doesn't know or understand music streaming. I mean who comes up with a line dance song called "Moose Knuckle Shuffle" and like I said at the beginning has the guts to play it at the Opry.
They are going out on the road doing some touring, and I can only hope they manage to come north of the border and do a show in Alberta.
Here are some of their music videos:
and last but certainly not least …
-Everett