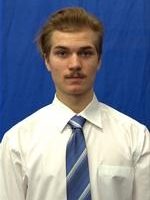 A hockey player from High Level is adjusting to his first season in the AJHL.
Cameron Beson is a goaltender with the Fort McMurray Oil Barons.
He says his head coach, Gord Thibodeau, has been a positive influence on him and the rest of his teammates.
"It's incredible. When he enters the room, everyone's focus is up and you listen. He's got a real presence about him but he's there to win and he's definitely getting us in the right direction."
Beson began the season playing with the Grande Prairie Kings of the NWJHL, and says he's been able to handle the jump to junior A.
"There's a lot less broken plays in comparison to junior B and the pace is definitely much faster, but I've been able to make the jump pretty well so far and I'm looking forward to the rest of the year"
You can check out our full interview with Beson below.
– Kyle Moore, Trending 55 Newsroom