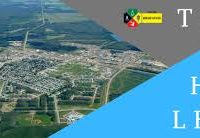 Another municipality in the region has closed its offices to the public in the wake of the pandemic.
The Town of High Level decided during their council meeting this week to close their office to public access in an effort to encourage social distancing.
There will still be staff working in the building who can be reached via phone or email in the event that residents need assistance from them.
They can be contacted by phone at 780-926-2201 or by email at reception@highlevel.ca.
CAO Clark McAskile says in a statement that the Town as a whole has been appreciative and impressed by the efforts of local residents in dealing with the pandemic situation.
"As an organization, we're very impressed with our residents in the way they have been adhering to these guidelines," he said. "Everybody has been doing this in a very civil fashion. We really do appreciate the efforts everyone has made to help us all get through this situation.
"Thank you to the public for that, and we will let you know when we are back to regular operating procedures."
Click here for the latest updates from the Government of Alberta.
Click here for the latest updates from the Government of Canada.
– Kyle Moore, Trending 55 Newsroom