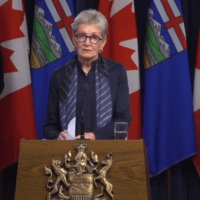 On Friday and Saturday, two different conferences were held on COVID-19 and its progress in Alberta.
Yesterday, Deputy Chief Medical Officer of Health, Doctor Marcia Johnson filled in for the Chief Medical Officer of Health, Doctor Deena Hinshaw. During which she'd revealed that there are now 226 cases in Alberta, with 31 new ones reported yesterday. Of those 31, 7 cases were reported to be in the northern zone.
Of the 226 cases, 11 have been hospitalized, and one has died.
Doctor Johnson informed the public to be wary of scams, noting that, in reality "no one from Alberta Health or Alberta Health Services will be calling and asking for social insurance number credit card numbers for banking information".
Scammers have been stating victims that they test positive for the virus, then will request credit card information. As seniors have been at higher risk to fall victim to the scams, Johnson states to make sure that elderly people know that such calls or emails are scams.
Mass gathering limitations have been reinforced, and will be remaining in place until further notice, with limitations being placed on religious gatherings as well. There are currently no restrictions at this time regarding personal services (i.e hair salons), but Albertans are advised to practice social distancing, reduce the number of times they go to run errands, and limit time they spend in crowded spaces.
It was stated in a debrief about the conference that the Alberta Government will be reopening select, licensed child care centers back up to the public. The government will be reopening 15,000 spaces to ensure child care is available, with access to child care centers being prioritized to health-care practitioners and critical infrastructure workers. Additional spaces will then be available to first responders (i.e police, firefighters, etc) and others. Parents will be notified this coming week through their employer if they qualify to send their children to newly reopened centres. Centers are expected to open back up in phases on March 23rd.
Additionally;
Alberta Parks has closed winter camping, effective immediately, due to the pandemic.
Liquor and cannabis stores will be remaining open, with liquor manufacturers taking an interest to to producing alcohol-based hand sanitizers.
Commercial and passenger road tests have been suspended to protect clients and examiners from the spread of COVID-19.
ATB has temporarily closed specific branches, with all branches now facing reduced hours.
Public fatality inquiries scheduled between March 21st and May 22nd have been adjourned with no restart date.
Alberta Supports is temporarily suspending in-person services effective March 23 until further notice.
Funding for civil society organizations is to be distributed through FCSS programs, and civil society organizations can get in touch with their local FCSS program regarding available supports.
The number of recovered cases, revealed on March 20th, was 3. There has been no update on if there are any more recovered cases.
Aggregate data on COVID-19 in Canada is available here.
Saturday's conference is available here; or here on Facebook.
Friday's conference is available here; or here on Facebook.
There was no conference today, and the next conference will be on March 23rd, when Doctor Deena Hinshaw returns to brief Albertans again.

The Albertan government has additionally released a video they state will 'encourage people to help prevent the spread'. The Albertan government is also encouraging residents to share acts of kindness they've faced during difficulty, tagging it with #AlbertaCares.

-Ridley Reiser, Trending 55 Newsroom

Tags: