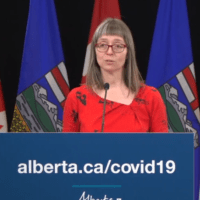 On March 30th, Doctor Deena Hinshaw, Alberta's Chief Medical Officer of Health, adressed the Albertan public. She confirmed that a total of 8 deaths had been confirmed in Alberta, with one being in the 'Northern Zone'.
"This news is heartbreaking for all of us," Hinshaw stated.
"Although these individuals had risk factors like older age or chronic medical conditions, their lives matter as much as any of ours. This has been one of the hardest days yet. Imagining the grief these families are facing, and my heart goes out to them. These deaths speak to the seriousness of the COVID-19 pandemic, and why aggressive measures from all of us are needed to contain the spread."
Hinshaw explains that the lower numbers for confirmed cases (with today only having 29 new cases) is due to the fact that the government has stopped testing travelers returning to Alberta. There has also been a decrease of daily tests within the past few days, due to challenges with supplies.
"It will take us several days more of this new testing protocol to get enough data to understand our trends. I expect by the end of this week we will have a better sense of what this data means to our risk in Alberta."
At the moment, Hinshaw suspects that up to 65 of the currently known cases are due to community transmission, rather than outside transmission. This could potentially be due to individuals not knowing they are sick before transmitting the virus onto others.
"Those of you in home isolation, thank you for doing your part. Those of you who chose to stay home and away from others because of an illness, whether mild or severe, thank you for doing the right thing. Those of you who go to work in critical jobs, like taking care of vulnerable people in long term care, thank you for doing so, safely. We are all in this together."
Hinshaw connected with 'her counterparts' across Alberta yesterday as part of their Specials Advisory Committee on COVID-19 Response. Hinshaw states that she discussed with the committee about rules under the Federal Quarantine Act, one of which requires any Canadian under self-isolation to remain on their property for the duration of the isolation period.
"While some provinces— such as Alberta— allowed those who are in self isolation, and are also well, to leave their property for short walks, the discussion with my colleagues was about weighing out the risks and benefits with this exception. At the end of the discussion, we came to a consensus that because there is a risk of people getting ill while they're out, we'll have a uniform recommendation across the country. If you were quarantined because you recently came back from outside the country, or if you are a close contact of a confirmed case of COVID-19, you must remain on your own property, rented or owned. You are only permitted to go outdoors on your deck, in your yard, or on a balcony."
Albertans are advised that by under no non-emergency circumstances (i.e talking a walk to the park) should they leave their property if they are self isolating. Self isolating Albertans are only permitted to leave their premises until after the isolation period ends, and are furthermore, not allowed to have visitors over during their isolation period. During the period, Albertans are strongly recommended to have someone they know pick up essentials, such as groceries and medication for them.
Those self-isolating inside of apartment complexes must stay inside of their unit and are to refrain from using their complex's elevator or stairwells in order to go outside.
Hinshaw re-states that the rule applies to those who feel well, as well as those who feel ill.
"I know this is incredibly difficult. Staying indoors or close to home for fourteen days is a very long time. But, this is what we must do to protect each-other. This also means that we need to look out for our neighbors who are in a time of self isolation. We need to help each other with groceries and other essentials so those are on self isolation can follow the rules. Staying inside can save lives."
Hinshaw re-addresses the matter of social distancing, saying that staying about a hockey stick-length apart at all times is required. For the matter of situations where social distancing is not possible such as carpooling, Hinshaw reassures that individuals will not be fined for traveling with other individuals in their car so long as they are not in a self isolation period.
"While Albertans must practice physical distancing, it is important to remain socially connected. Text or call an old friend you haven't spoken to in a while, video chat with a family member or loved one. We will need to find new ways to connect with each other while being physically separated. It is by helping and looking out for one another that we will overcome COVID-19. I call on all Albertans to treat each other with kindness, acceptance, and respect. Look out for each other, we are all in this together."
The full conference is available below or on Facebook.
-Ridley Reiser, Trending 55 Newsroom

Tags: