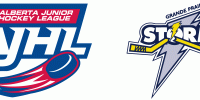 The regular season schedule is now out for the AJHL. All 15 teams will play 32 games during the regular season and all the games will be between division opponents (no North vs South games).
The Grande Prairie Storm schedule is as follows.
Friday Nov. 13 vs Bonnyville
Saturday Nov. 14 vs Bonnyville
Friday Nov. 20 at Spruce Grove
Saturday Nov. 21 at Spruce Grove
Friday Nov. 27 vs Lloydminster
Saturday Nov. 28 vs Lloydminster
Friday Dec. 4 at Sherwood Park
Saturday Dec. 5 at Sherwood Park
Friday Dec. 11 vs Spruce Grove
Saturday Dec. 12 vs Spruce Grove
Friday Dec. 18 at Lloydminster
Saturday Dec. 19 at Lloydminster
Saturday Jan. 2 vs Whitecourt
Friday Jan. 8 at Whitecourt
Saturday Jan. 16 at Fort McMurray
Sunday Jan. 17 at Fort McMurray
Friday Jan. 22 vs Whitecourt
Saturday Jan. 23 vs Whitecourt
Friday Jan. 29 vs Sherwood Park
Saturday Jan. 30 vs Sherwood Park
Friday Feb. 5 at Bonnyville
Saturday Feb. 6 at Bonnyville
Friday Feb. 12 vs Drayton Valley
Saturday Feb. 13 vs Drayton Valley
Friday Feb. 19 vs Fort McMurray
Saturday Feb. 20 vs Fort McMurray
Thursday Feb. 25 at Drayton Valley
Friday Feb. 26 at Drayton Valley
Friday Mar. 5 at Whitecourt
Saturday Mar. 6 at Whitecourt
Friday Mar. 19 at Drayton Valley
Saturday Mar. 20 vs Drayton Valley
The league says a decision on the playoff format for this season will be made at a later date.
– Kyle Moore, Trending 55 Newsroom