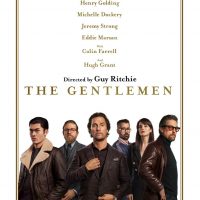 This weekend I took in a couple movies the first was 1917 and the second was The Gentleman. The Gentleman was hilarious, a fun movie to watch, and boasts an all-star cast.  The film follows American expat Mickey Pearson (Matthew McConaughey) who built a highly profitable marijuana empire in London. When word gets out that he's looking to cash out of the business forever it triggers plots, schemes, bribery and blackmail in an attempt to steal his domain out from under him.
The Gentleman thrives off it's comedy, and the all-star cast doesn't disappoint. It is interesting seeing Matthew McConaughey has gone from a stoner in his first movie to playing a drug kingpin in his latest. Hugh Grant, in my opinion is the shining star with his characters interaction with Charlie Hunnam's who holds his own with Grant, showing his best work since Sons of Anarchy. The action and storytelling throughout the movie is by far Guy Ritchie's best work to date without question. I like the dedication to the English setting and use of the actual language and slang rather than Americanizing it like many Hollywood movies typically do, though it poses a little problem as well.
The only faults I can see with The Gentleman is that since it is set and written by and Englishman, so that maybe some of the humor and slang notably from Colin Farrell's fighter gang won't translate or be understood by a North American audience. I've watched quite a bit of British television and I couldn't quite understand it but had an idea of what they were saying or getting at. I question the theater's 14A rating in Canada given the amount of foul language.
All in all this was an amazing movie to watch that kept me entertained from start to finish. This  will likely be on my Top 10 movies of 2020 at the end of the year, and I would pay to see it again. The comedy, action and storytelling was on point and will be watched many times in the future. I give it 9/10.
-Everett