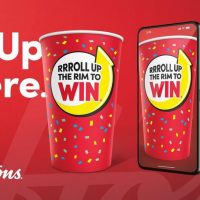 Yes Tim Horton's Roll Up The Rim Contest has gone digital, but don't worry you can still physically roll that rim up. After many complaints about the use paper cups been thrown out, more so during the promotion, the coffee chain thinks they have the solution. Tim Horton's is pushing sustainability by promoting using their app for use of the digital roll ups. Physical roll-up cups will only be available in-store for the first two weeks of the contest. Tim Hortons will hand out digital "rolls" to customers' accounts for the full four weeks, meaning you can get two entries per coffee over the first 14 days. Customers who buy a hot drink with a reusable cup will get three digital rolls for all four weeks of the contest.
Roll Up The Rim is set to only run for 4 weeks (March 11 until April 7), unlike last year where is ran for 10 weeks. The shortened contest may or may not have to do with the chain's major drop in sales.
Are you interested in the digital roll ups or would prefer to keep just the physical ones ???
-Everett