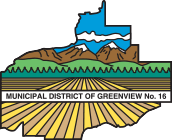 The Municipal District of Greenview is closing all their offices, effective immediately.
The MD says staff will be around to answer any questions anyone may have by telephone, or e-mail.
All municipal bills can be paid via online banking, credit card over the phone, or on the website through Virtual City Hall.  If you do not have a current Virtual City Hall account setup please call Marilyn at 780-524-7640.
If you need assistance with any of these options, please call 780-524-7600.
– Kenny Trenton, Trending 55 Newsroom
---
The Municipal District of Greenview is closing the Greenview Regional Multiplex.

The MD announced it is closing the facility in Valleyview due to the coronavirus outbreak.

Greenview also decided to pause payments for monthly memberships as well.

An official with the MD said its municipal offices will remain open.

Click here for the latest updates from the Government of Alberta.

Click here for the latest updates from the Government of Canada.

– Kenny Trenton, Trending 55 Newsroom

Tags: