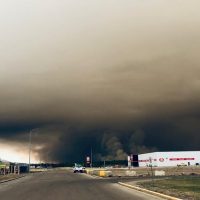 No new wildfires started in the Peace River Forest Area yesterday, allowing firefighters to focus their full efforts on patrols and the major fires already have burning in the area.
Yesterday was a challenging day for firefighters battling the Out of Control wildfire northwest of Manning, with dry conditions and extreme fire behaviour making it unsafe for firefighters and heavy equipment to work in many areas.
Increased activity was also seen on all edges of the fire yesterday, as the fire is now burning both on the ground and through the tree tops. At this time, the fire is slowly growing to the north with other areas of the fire spreading as well. The wildfire has now consumed an estimated 29,924 hectares after a significant amount of growth occurred Monday night. The fire would see growth especially in the northern section of the fire, while increased fire activity was observed late into the evening because of low humidity and warm temperatures.
The advancement of the Notikewin Wildfire, the County of Northern Lights is issuing an evacuation alert for households located north of 7th avenue NW/Township Road 915, all the way north up to Twin Lakes Campground and as far east as the Notikewin River.
The fire west of Keg River is out of control at 251 hectares in size, as numerous firefighters, helicopters and heavy equipment worked towards containing the blaze yesterday. The fire has been completely surrounded by dozer guard, with the guard holding up throughout Tuesday.
The wildfire in the area of Battle River is now under control, and has now consumed an estimated 74.23 hectares.
–Alex Rodgerson, Trending 55 News