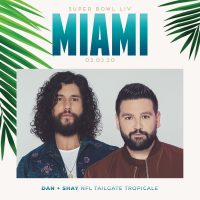 It is hard to deny that one of the biggest sporting events of the year if not the biggest is the Super Bowl, and to play an event at it is huge. This year the big game is in Miami aka South Beach, with Dan + Shay already announced to be playing the Super Bowl Music Fest on the Saturday alongside Maroon 5, but now Dan + Shay will have that chance to play on the Sunday on national television. They will now be playing the Pregame show alongside Pitbull on February 2nd.
super bowl weekend is shaping up to be a dream. excited to announce that we'll be performing during the official @nfl pregame show. don't miss it. 😍 pic.twitter.com/U1WWd0aR3t

— Dan + Shay (@DanAndShay) January 20, 2020
Pitbull is set to perform "Get Ready" then Dan + Shay will follow him performing their hit "Tequila," which is a fitting song considering how much tequila will be consumed that weekend in Miami, and that's not even taking into consideration Gronk's tequila intake.
The Super Bowl Pregame show is set to air at 12 pm MST on February 2nd.
-Everett