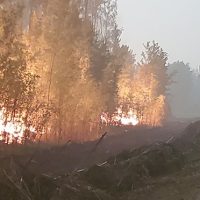 HIGH LEVEL — The massive wildfire south of the town of High Level has seen it's growth begin to slow over the last several days, mainly due to cooler temperatures in the area and the efforts of firefighters.
It's noted in the most recent update from Alberta Wildlife that recent scattered showers and cooler temperatures have helped decrease fire activity, which has come as a welcome sight to fire crews. Firefighters, heavy equipment and aircrafts have been using the conditions to their advantage, to establish containment in priority areas.
Structural and wildland firefighters also continue their work around the Paddle Prairie Métis Settlement to protect values, and have worked with heavy equipment to place extensive fireguards around the settlement. At this time it's reported that between 14-16 homes have been lost, but that number is bound to fluctuate over the next few days. Firefighters are now consolidating containment to the south of the fire.
Fireguard lines have been completed on the east side of the Peace River by Tompkins Landing, from the agricultural land to the Peace River. Structural and wildland firefighters continue to extinguish hot spots along the fire perimeter to limit spread, while Airtankers and bucketing helicopters continue to assist firefighters on the ground where possible.
Fire crews continue to consolidate containment along Highways 35 and 58, and north of highway 58 west of High Level, while heavy equipment is now being used to construct additional fireguard from the Boyer River to the Peace River. As of today, the Chuckegg wildfire has consumed 275, 985 hectares.
Progress also continues to be made on the wildfire near Steen River.
It's noted by officials that lower temperatures have allowed firefighters to make advancements on control lines, in both the southern and western sections of the fire. The northern section of the fire has also seen great progress by crews, as hot spots are now being targeted to ensure fire smoke does not impede travel on highway 35.
Today crews will be south of highway 35, and in some of the areas off of Bearspaw Road. Those firefighters will be moving onto more active areas of the fire, where helipads have been constructed so they can target new hotspots along the fire perimeter. In their last estimation, Alberta Wildlife say the Jackpot Creek fire has now reached approximately 28,000 hectares in size.
–Alex Rodgerson, Trending 55 News