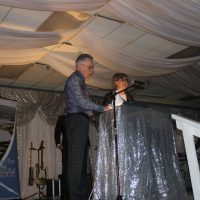 Saturday was a celebration of the accomplishments of small businesses in the Peace Region.
The Peace River and District Chamber of Commerce had its annual A Night at the Davis Awards at the Belle Centre.
The biggest moment of the evening was local Tim Hortons Owners, Barb and Gord Drummond being presented with the President's Davis Award.
Chamber President Justin Hicks listed off the many charities the Drummonds are involved in and praised the couple in creating a welcoming and comfortable environment at their Tim Hortons locations in Peace River and Valleyview.
Below is a list of the award winners, as well as the runners up.
Customer Service Excellence Award: Simply For Life
Runners up:
Life Fitness
Aspen Grove Spa
Industry Leadership Award: Mercer Peace River Pulp
Runners up:
Go Auto Peace River
Peace River Value Drug Mart
Community Spirit Award: Mighty Peace Chevrolet/GMC/Buick
Runners up:
Harcourt Law Group
Go Auto Peace River
Business of the Year Award (Under 10 employees):  Peace River Brewing
Aspen Grove Spa
Pink Rose Day Spa
Business of the Year Award (Over 10 employees): Fountain Tire
Kentucky Fried Chicken
Avenge Energy Services LTD.
– Kenny Trenton, Trending 55 Newsroom

Tags: